Over the summer, Mylene of Keenobby inspired me to launch Relaxation + Wellness Workshops with Keenobby! It has been a wonderful way to share relaxing and self-care rituals with the Keenobby community, under their Health + Wellness collection of workshops. Our workshops are very much about sharing your own relaxation rituals with other attendees while creating your own customized bath blends...I happily learn from our guests at every workshop too. Please enjoy scenes of some of our creations from our previous workshops:
Photography by Antonio De Lucci
Before our next class, if you'd like to have a mini-spa sesh in your home, I'd love to share with you how to quickly blend your own single use mineral bath soak and make it unique to your own desires! Mineral salt soaks are great for after a gym session, seeing the election results (ha ha!), preparing for sleep and helping to alleviate stress.
For a single-use mineral salt soak, here's what you'll need:

1. 3 tablespoons of desired salt (Dead Sea Salt, Himalayan Salt or Epsom Salts)
2. 2 teaspoons of dried rose petals or seaweed (a Dirty Mermaid fave!)
3. 1 teaspoon of a coconut oil, olive oil or other desired carrier oil
4. 6-8 drops of desired essential oil (relaxing lavender for support with sleep or refreshing peppermint for sore muscles/respiratory support)
Instructions:
Mix all dry ingredients in a bowl. In a smaller mixing dish add your carrier oil and drops of essential oil and mix together. Once oils are blended, add your essential oil blend with the dry ingredients and continue to stir until all salt crystals are coated and glossy. Then draw your hot water for a relaxing and restorative bath ritual. Soak for up to 40 minutes and repeat weekly!
And enjoy more scenes from our previous workshops, where we made a mineral salt soak, a coconut milk bath, and a facial steam/bath tea combo: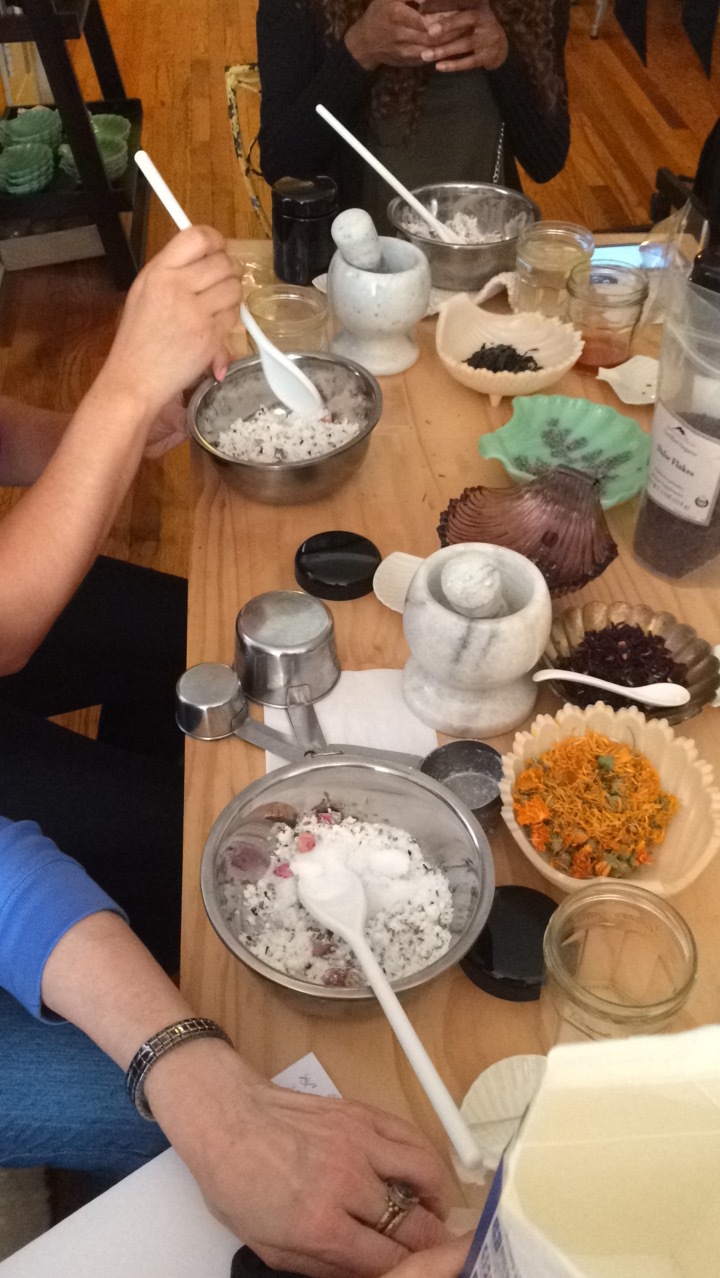 Can't wait to see you at our next workshop!
Xx,
Leslie
 
OUR UPCOMING WORKSHOPS/EVENTS